Reading Time:
3
minutes
I've combined and modded two 60197 LEGO City Passenger Train sets and used Jacobs Bogies to join them! Watch this video to see me testing it in my Custom LEGO City.
First up, the primary mod of this train is to Jacobs Bogies. This is where carriages are joined together with a single bogie rather than having s separate bogie each. I'll cover that in detail and some techniques soon.
If you've watched my review of the 2018 LEGO City Train 60197, then you'll know I'm a big fan of it. But that doesn't mean I didn't have plans to modify it to become my own Custom LEGO Train. Or, to get a second one and combine them! If you haven't seen it yet, here's my LEGO City Passenger Train 60197 Review
With this video, I've filmed a few short clips of my LEGO MOC with the new longer train travelling around my city. The setup is 2 passenger cars, 1 dining car and two locomotives (one powered with LEGO Power Functions and the other for show).
Modified LEGO City 2018 Passenger Train
For the eagle eyed amongst you will have noticed the actual modification to this train. It has Jacobs Bogies connecting the passenger cars. It's a design I've always loved the look of riding on the French TGV and Eurostar trains, so I thought why not give it a try. The main changes were obviously dropping out the old bogies and replacing them. For the middle carriage, the underside filler has been extended a full 4 studs (might try for 6), and each of the end carriages will need an additional 2 stud extension.
The resulting train looks pretty cool to me! I love how it moves and I think it is visually even more interesting!
Why did I not use the 2nd dining car or power the 2nd loco? The reason is that I have plans to build my own LEGO Train MOC. For that, I'll be using the amazing new LEGO Power Functions 2.0 Bluetooth system and the base from the 2nd dining car. That, and reversing the 2nd motor is not currently an option in the paired mode.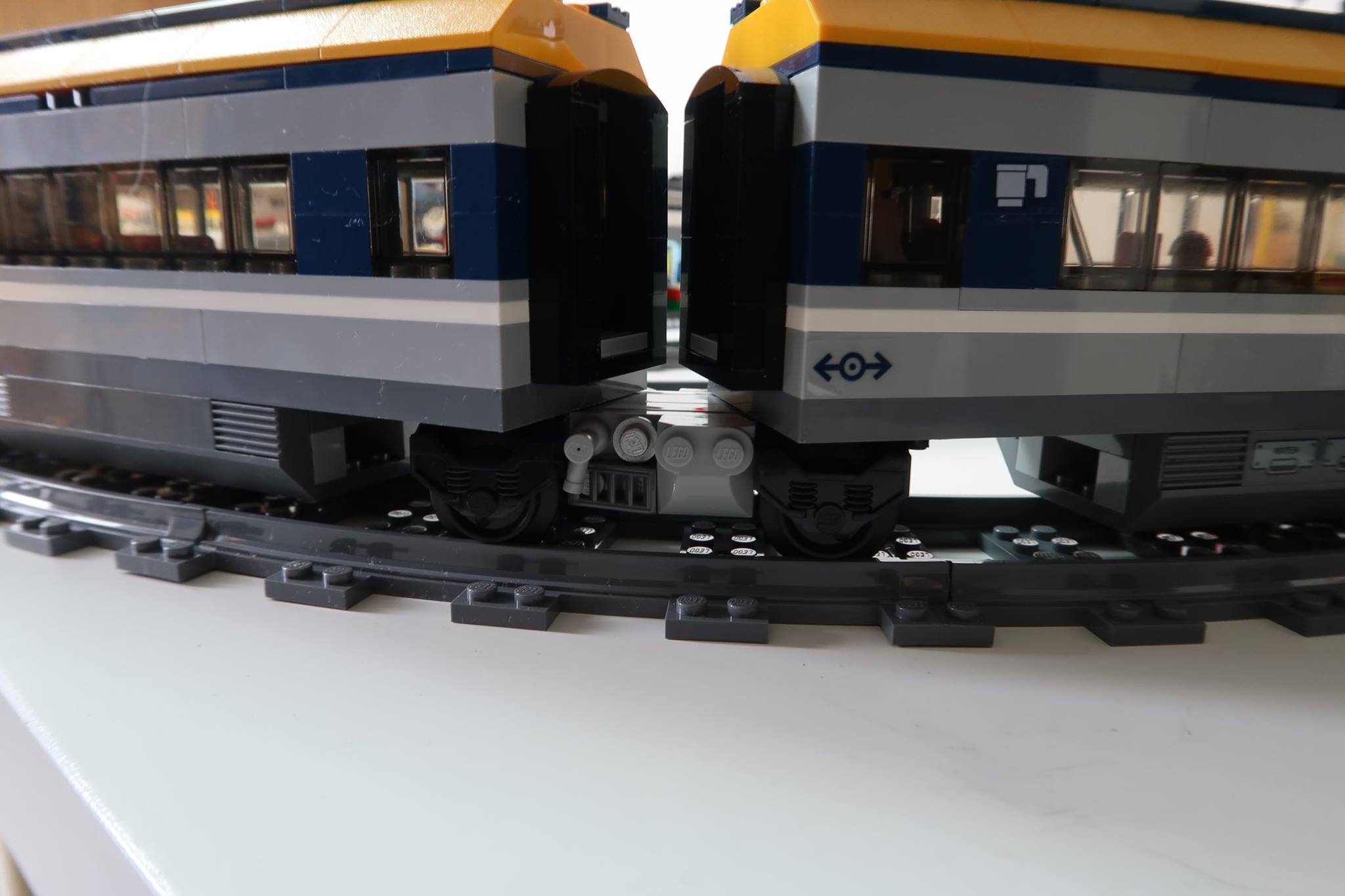 With the 2nd dining car, I didn't see the point in having 2 of them in a train. I will enhance the one that's there with the extra parts from the 2nd set though. Then use the parts on something else.
Here's my LEGO Train 60197 Build Video.
And I haven't applied all the stickers to the 2nd train in this video, but will soon before anyone points that out!
I will be publishing a video on Jacobs Bogies and building your own so I won't go into detail here. And there are more modifications planned for this fabulous train!
When you've finished watching the video, please like it and leave a comment to let me know what you think of the contents.
Subscribe to the GJBricks YouTube LEGO channel and turn on the "bell" to get the latest updates and see what I've been up to.
I shot this video on a Canon G7X Mark 2 and edited it using Apple iMovie.
You can purchase the LEGO City Passenger Train 60197 from LEGO Today. Purchasing with this link supports my site with a small affiliate fee.

LEGO City Passenger Train 60197 Video Links
LEGO City Passenger Train 2018 Photos