Reading Time:
4
minutes
I'm an Australian AFOL called Greg who's decided that besides my family, this is something that I'm super passionate about – other than my startup business. To me, it LEGO is one of the best toys ever created because it is just so creative and limitless in possibilities. Looking around the internet at what people like Jang Bricks and blogs like The Brothers Brick have been doing has inspired me to start on this personal journey of creativity. Not to mention, I may be addicted to the Brickset website as you can see in the GJBricks profile.
With the GJ Bricks blog, I'm creating an outlet for my love of the Brick. And, do something I've always wanted to do, which goes more into the models and community to talk about the beauty of it. I've been working on a Custom LEGO City Build which I've called Studsburg. That's an outlet for some of my ideas, story telling and LEGO Trains – one of my favourite LEGO themes.
I'm also hoping to get my kids involved as they grow. They're already big fans of Duplo and my eldest loves to make the older sets with me. We recently made the Ninjago Destiny's Bounty together. That was fun and I'm looking forward to doing some work with that set for this blog and my LEGO YouTube channel. Btw, if you don't own it, you should pick it up when you can. It's a brilliant set!
How long have I been a LEGO Fan?
This is one of those questions that surprises even me. I always grew up loving and playing with LEGO Bricks. I was a Fan and Creator for as long as I can remember and I'm going to dig out some nostalgic photos of my childhood builds when I can.
But, recently, I found out that it all started when my mum bought me two bags in a Local market. She paid very little for it, but I was hooked almost instantly. I guess that's something I love about Lego. Anyone can just pick it up and play with it. Kind of like an iPad I guess.
To give you some idea of how far back my love of LEGO goes here's a blog post about some of my old LEGO Club badges. And here's one of my childhood LEGO Builders Club certificates: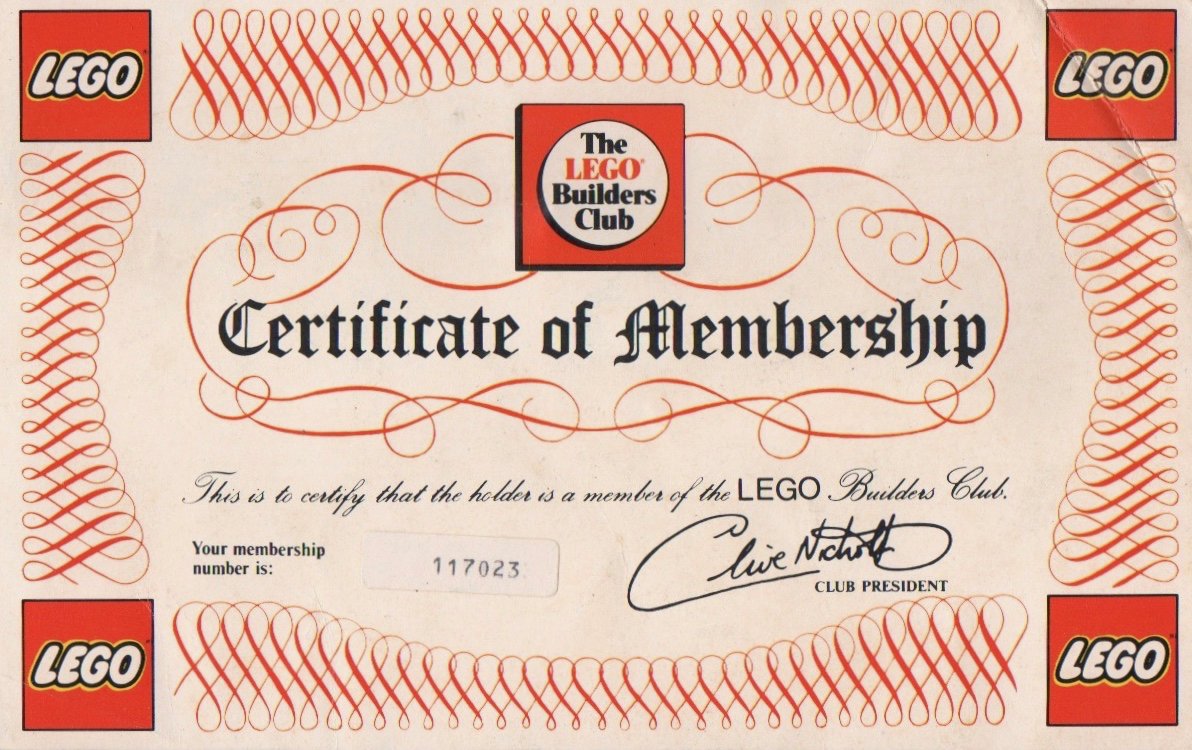 As for the recent history of my LEGO Fan status, I was in the wilderness for a few years. I never stopped getting models, and my mum, as always, knew that it always made me happy. But recently, I found it was a great way to escape from reality for a few hours. The added bonus is that my kid's imaginations are thriving on the back of it!
And more recently, I've been so excited by the quality of the latest sets. The LEGO Designers have done an amazing job. But also, LEGO Ideas. Seriously! The best way to engage the community! It blows my mind some of the creations that have come from it – my first Ideas set was Wall-E.
Where did the name GJ Bricks come from?
To name my Lego alter-ego, I wanted something short but that clearly reflected the LEGO brand. Now obviously, you want to steer clear of using that actual LEGO name in a URL. That left me with Bricks and/Or Blocks. I wrestled with this, and as punchy and playful as you can be with Blocks (rhymes with Rocks), Bricks felt better. It was just friendly, more playful and I've always called them LEGO Bricks.
As for the GJ bit, my name is Greg and my initials are GJB and I really liked the playfulness of it. I knew it was right when my wife instantly liked it. She also started humming the theme tune for one of our Kids favourite shows, PJ Masks.
And, as someone who recently went through a big branding exercise for work, it was available everywhere. Trust me, you would not believe how hard it is to get short names these days. 8 letters, available and makes sense is a win in my books.
With that name, it's playful, light-hearted, has personal meaning and was instantly popular at home. That's a was everything I needed to decide it was the right name for me!
Verified Accounts
Seems like in this day an age you have to explicitly list your official accounts, so here they are: