Reading Time:
6
minutes
This is a set that has been circling the rumour mills for the last few weeks. But, it is totally different from what everyone had been anticipating! So what have LEGO given us with the first of the LEGO Star Wars Master Builder series? People have been speculating on what the Cloud City set would be. The generally favoured one was going to be a UCS model featuring the outside plating of the set, some detailing and a fully detailed interior of the floating city. They were partially right…
What LEGO has delivered – and kudos to them for keeping it under wraps so well – is a massive playset, in line with the previous Death Star 10188 playset. There's a whole heap of feature crammed into the box, with a price tag that is in line with recent large sets.
Regional Prices and Availability
First up, when is the set available and how much will it cost?
So the good news is that it is releasing globally on the same day which is 1st October 2018. But, if you are a LEGO VIP, you can order it from 13th September.
With pricing, below is the local prices and links to the relevant stores. As always, it's hard to do a straight currency conversion, but needless to say, some do better than others. For example, the AUD price seems to be slightly above the exchange rate, which is a shame as recently it had been below.
Box contents and Packaging
Taking a look at the box, you can see what a beast this is! For me, The Empire Strikes Back is the best Star Wars movie of the original trilogy. And the fact that LEGO can make such an iconic set out of one part of the movie is a testament to the story.
Like I said, this is the first look at LEGO's new Master Builder packaging and branding. Overall, the box has a definite UCS feel to it, just without the brand. If this is a sign of things to come in this line, then I'm excited!
The back of the box shows a lot of the features, vehicles and scenes in the set. You can see it's a big, colourful set with heaps going on! I especially like the cloud car and the freezing room – complete with freezing action!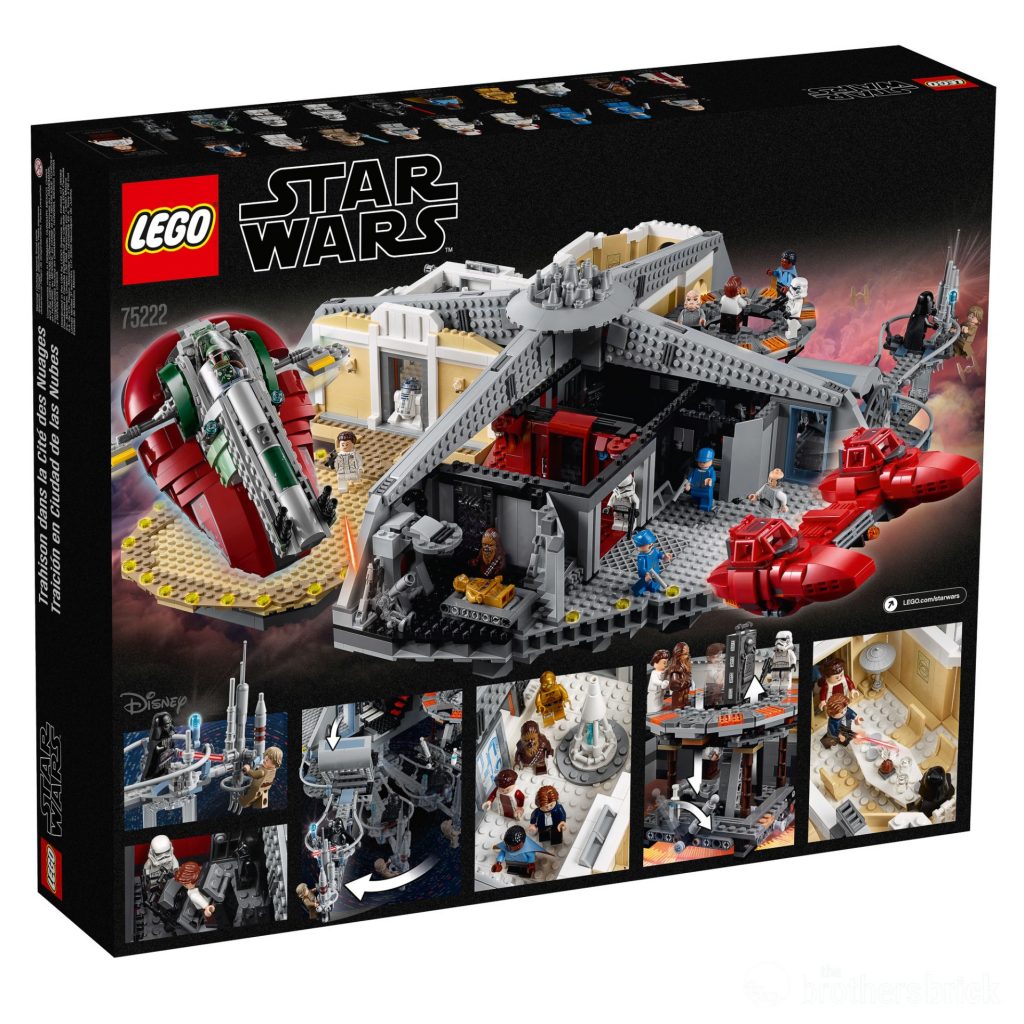 What's included
It comes in at 2812 pieces which doesn't seem that high for the size. But there are a lot of large pieces in the photos. As opposed to the recent LEGO Hogwarts Castle 71043 that came in at 6020 pieces, but a lot of those were very, very small. Side note, those two sets prove why the price to part ratio is not a good comparison between sets.
The set includes a whopping 18 minifigures! It includes the obvious ones of Luke, Boba Fett and Darth Vader. And for with some minifigures, you get two versions of, specifically Han Solo and Leia who get Bespin and Hoth outfits. There's also a slew of other figures to make this set infinitely playable and fun!
You get two vehicles with Slave One and The Cloud Car. The latter looks better in my opinion – but I'm lucky enough to have a Slave One already.
One of the most understated, but – for me – beautiful parts of the set is the promenade. It's packed with a tree sculpture, mural relief, some great wall details and opening doorways that lead to other parts of the LEGO Cloud City Playset.
There's the infamous carbon freezing chamber, waiting to be used on Luke. But you can test it on Han Solo with a lever-activated 'freeze' function.
There's the dining room where the betrayal occurs (sorry for the spoiler). It features a table, has seating for 5 minifigures and a decorative Cloud City micro build in the corner. Oh, and the dark lord himself, Darth Vader!
Finally, there's the sensor balcony with a railing that can swing-out for more accessibility and play opportunity. This features a maintenance cabin with opening round window for epic LEGO Lightsaber duels between Luke Skywalker and Darth Vader!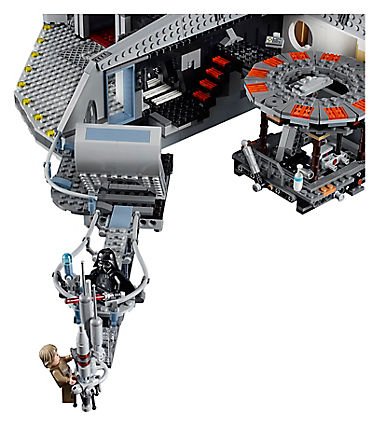 For the exact set breakdown, refer to the LEGO Official Page. And for a slightly different view, The Brother's Brick has a rather cool 360-degree spin around of the set.
My Thoughts
So what do I think of this massive set? I really like all the details and play features LEGO has crammed in. The features look great and the minifigure selection is spot on! And this is a set that will definitely appeal to kids and adults alike.
For me, I'm a big fan of playsets – my inner child screaming out. But I do find myself wondering if it would have been better as a series of smaller playsets that fit together?
What do I mean? I really like LEGO has just done with the Harry Potter Hogwarts Great Hall and Hogwarts Whomping Willow. That just makes more sense and means you can collect and build it out at a more affordable price. This is just too expensive for a one hit purchase and means a lot of kids that love it will probably miss out.
Personally, I won't be buying the set unless I can get it at a great price. But I do really like the look of it, and can't wait to see what people do with it!
Let me know what you think in the comments!
Photos of LEGO Star Wars 75222 Betrayal At Cloud City