Reading Time:
4
minutes
Welcome to the new LEGO Jurassic Park Velociraptor Chase set! This set is available in the shops now so you'll be wanting to know if it's any good. In this review, I'll try and answer that question for you.
So to begin with, for those that don't know, this is part of the 2018 LEGO Jurassic World lineup for the Fallen Kingdom movie. But, this set is based on the original Jurassic Park movie from 1993 and is also the first time LEGO has released a set for that movie. Hooray! I for one was also glad to see it was a play set that really looks to have had a lot of passion for the material put into it.
Starting as usual with the packaging, it comes in a Jurassic World themed Box showing bits of the parks and a Raptor leaning over – matches the one busting in through the door. You can see the classic control room, kitchen and embryo scenes being re-enacted by the LEGO Minifigures. When I picked it up, I was pleasantly surprised by the weight of it. Coming in at 360 parts it does have a good brick count.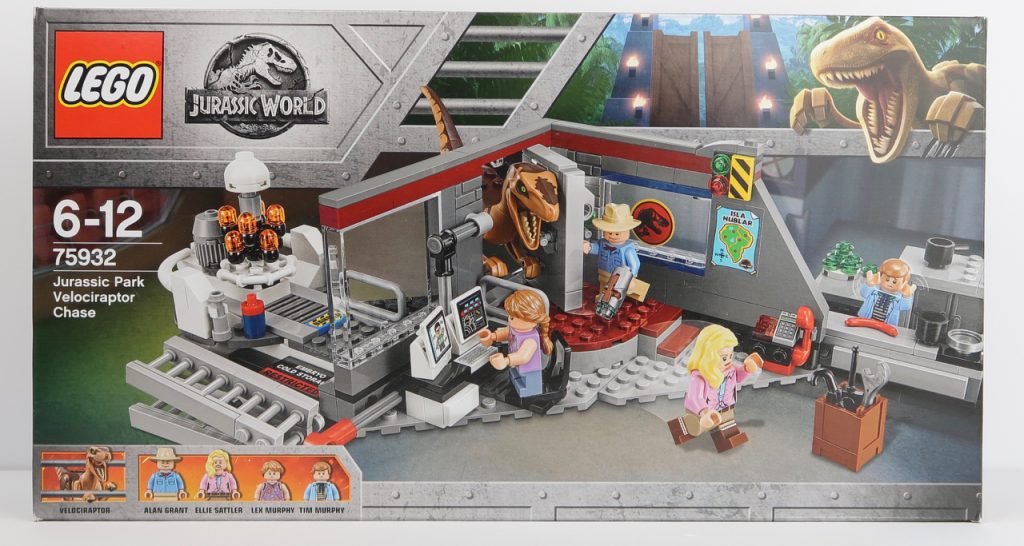 LEGO Jurassic Park Velociraptor Chase Review Alan escaping
Of course the star of the show for the figures is the raptor. This time a chocolate and light brown colour scheme and detailed as ever to the usual high standard. It has a good amount of pose-ability and really get tucked into the various bits of this set.
Overall, it feels like the LEGO designers had plans to expand this set, and you can quite easily enhance this set with some new rooms. Perhaps extend the embryo room out to include the laboratory and hatchery. Add on the restaurant to the kitchen. And the control room is crying out to have the maintenance shed added on. And how about if you added the entrance lobby with the T-rex rescue scene!
I'll finish this section off with a top down view that shows you the set layout.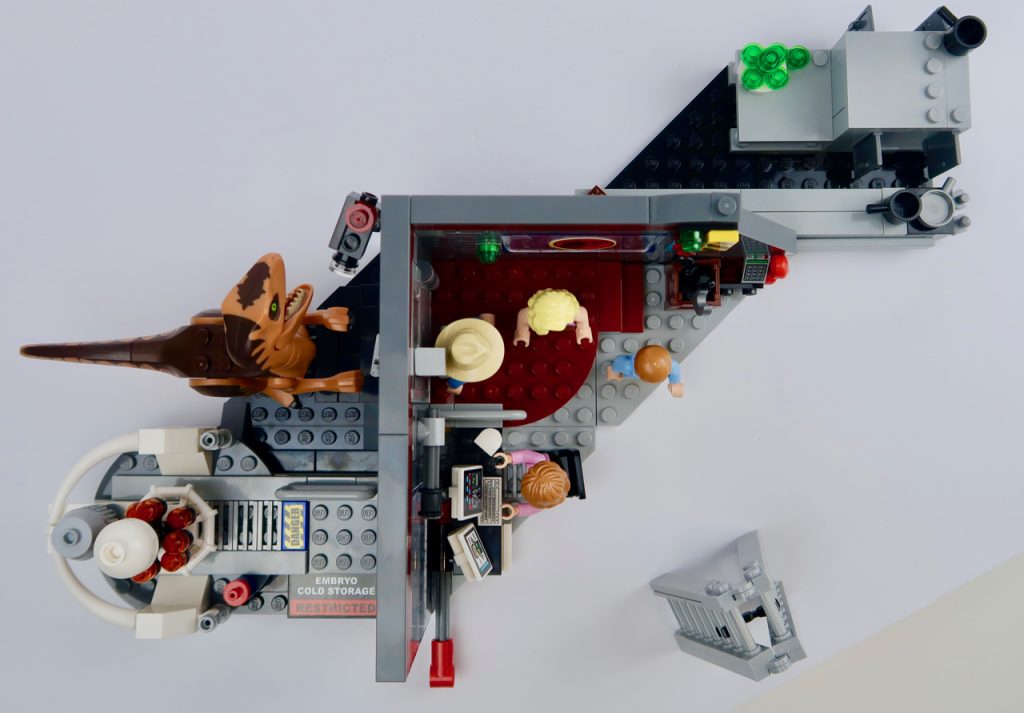 The not so good
I love this set, but there were a few things I think could have been improved.
First up, this is a small set in layout. But that is due to the price point of the set. The designers have packed a lot in really. So I'm wrestling with if it should have been bigger or not. Also, like I said, it feels like they want you to expand it which I like.
There aren't many points that the dinosaur can be attached to the set. This is again related to the size. But it does meant that there's not many point it can stand securely. That makes posing him a little challenging if you want to pose him. Also, only one Raptor. Would have been nice to see a 2nd one. But again, that would have pushed the price up and tbh, there's no room for him.
Last up, and this might be just me, but Lex operates the computer in the movie and this set. But, she has to stand up as she has the short legs. I personally would have preferred bending legs – she was very tall in the movie so I don't think that's unreasonable. You can see how awkward this looks.
The price to part on this is a little high if you pay the full rrp coming in at 19.5c here in Australia (beaten by Tron which is 21.7c). But this is generally the case with all the franchise sets due to the licensing fees.
In Conclusion
You may already have realised that I loved this set. I enjoyed building it, playing with and just looking at it. Like I said in the video review this set, this may end up on my desk at work, I love it that much!
This really is a great, fun, feature packed set that does fans a lot of service in its attention to detail and nods to the movie. Kudos to the LEGO Designers for this one.
Pick it up if you love the movie or just like dinosaurs. You can buy it on the LEGO store now and support this website using my affiliate link Jurassic Park Velociraptor Chase.
I hope you've enjoyed my review and please be sure to comment and share it and subscribe.
And don't forget to follow GJBricks on Twitter and YouTube.
LEGO Jurassic Park Velociraptor Chase Photos (set 75932)