Reading Time:
8
minutes
The Brother's Brick have just put a post up with all of the new Fallen Kingdom LEGO Sets Photos. Looks like the second LEGO Jurassic World movie tie-in will have a solid lineup in their LEGO form. And as usual they feature some great playability. But this time, it's good to see LEGO Juniors and LEGO DUPLO getting included! Something that was surprisingly absent last time. My kids will be thrilled!
I'm going to make a confession. When I started writing this article, I was feeling unimpressed with the sets from first glance. But as I talked through them in this article – which is why it ended up being rather long – they have already grown on me! And rather than doing a re-post, I've expressed my own thoughts and feelings from looking at the sets. So I hope you enjoy my point of view. There's a lot more of it to come!
The original Jurassic World Movie sets excited me from the beginning. This time they didn't grab me straight away. I own all but one of the original LEGO Jurassic World sets, and I have to say I still love them. FYI, I skipped the T-Rex set because it just didn't fit the movie to me. My Personal favourite was Raptor Escape despite the fact it could have been bigger. The main reason I liked it was because it sort of reminded me of the Raptor Pen in the original Jurassic Park movie.
Then there was the epic Indominus Rex Breakout set which was huge but had so much playability and to me, a great aesthetic. But then the Dilophosaurus Ambush had a great car and some nice play features. Also reminded me of the classic Jurassic Park jeeps.
LEGO Jurassic World:Fallen Kingdom Sets
Going through their post and looking at these, and nothing is jumping out at me, not even the dinosaurs. (see what I did there). Maybe I'm missing something, but they look like they're holding back.
I'm going to run through them with my thoughts and include an image from each, but for the full images, go and check out the Brother's Brick article. Or alternatively, go and check them all out on Brickset.
The biggest set announced is based on a building call the Lockwood Estate. With a solid 1019 pieces, it's a good size and there seems to be a lot going on. You get a brand new dinosaur and a lot of figures and some vehicles. The building is based on 3 levels and packs a lot in with collapsing roof, a laboratory, museum and a bedroom. I'm really hoping that when I see it in person, I'll change my mind, but for now I'm not sold. I will probably still buy it though as I'm a crazy Jurassic Park nut!
Working backwards in set size, next up is this more open playset. Featuring a truck with detachable container – similar to the Raptor Rampage truck – and a trailer on that that seems designed to handle the Gyrospears. It looks like they've improved on the truck chasis this time. It does feature all of the movie's main characters with Owen, Claire and Franklin. The set includes the gyroscope theme park ride launcher as part of a rather attractive little tree and kiosk build. And of course there's a dinosaur. This time it's the Carnotaurus, who looks a bit angry.
Of what I've seen, this is one of my favourites so far from the range and will be high on my pickup list.
I LOVE Helicopters! I own several LEGO Helicopters, epitomised by the LEGO City Heavy Cargo Transport and the Lego Technic Heliocopter 9396 (my highest recommended purchase btw).
This set does look rather cool, and the price for what's included looks to be very competitive (not including the Australian Markup). The main vehicle being the helicopter looks like a solid build with two figures. From what I can tell, they are not on the good guy's side sadly. There's also a Quad-bike – something  Lego does very well. And of course based on the name we have Blue the Raptor and his Alpha, Owen. It looks like a really great set with heaps of playability.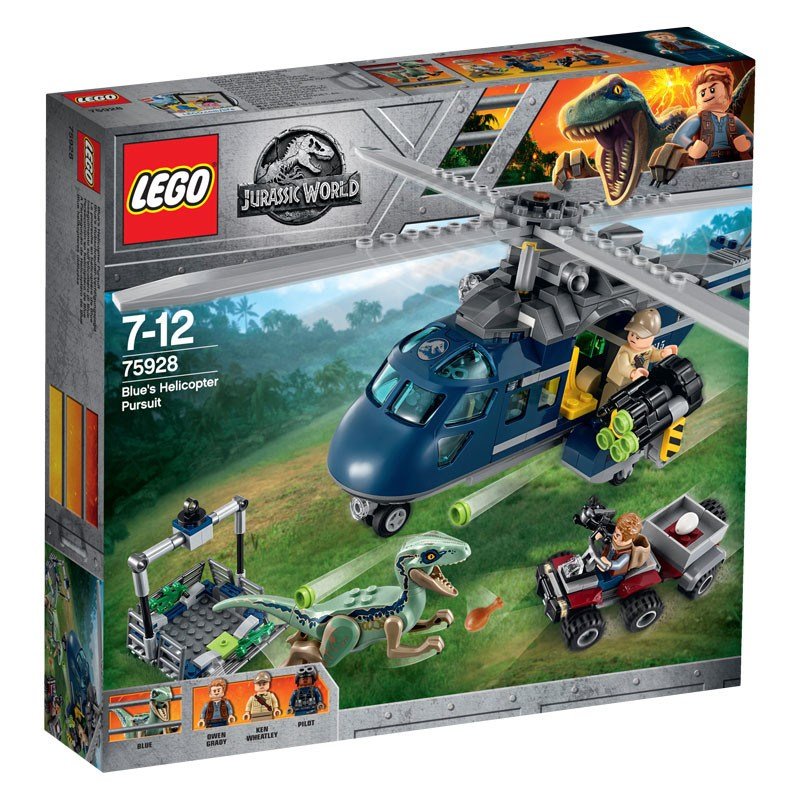 This looks to be a combination of Indominus Rex Breakout and Raptor Escape. Very similar shape and design, although I'm hoping they've addressed the size of the pen as it was a little small compared to the dinosaurs. This, again looks like a fun set with lot of playability and includes Dr Wu and some action packed escape features. I love how he's holding a coffee cup too.
Finally we come to the smallest of the older sets. Nearly identical in the idea to the original Pteranodon Capture set, this one includes some kind of jeep and the same net firing mechanism. And it's a chase, not a capture?!?Again, it includes Owen as the main figure and the rather enjoyable Pteranodon model.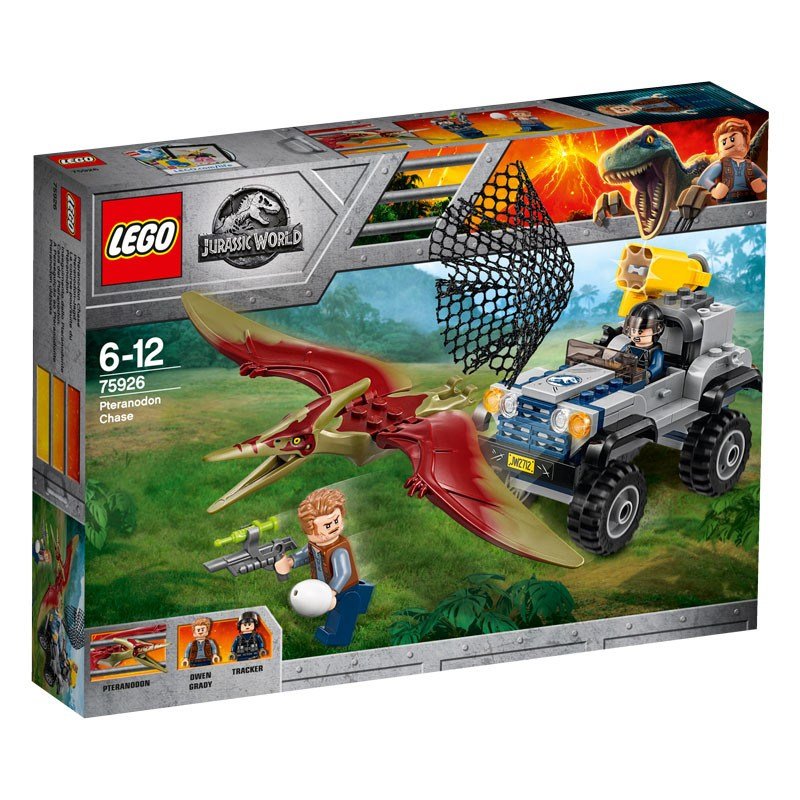 LEGO Jurassic World: Fallen Kingdom Juniors Sets
This time around they have included sets in the Juniors and DUPLO range. I'm guessing because the original ones were so popular and sold very well.
I'm gonna say it… I LOVE this set! So much going on with the famous Jurassic Park / World Gate, baby dinosaurs, eggs and of course the T-Rex. Who, I don't think could have been more appropriate for this set! And there's a fairly generic van. This looks like a set that will definitely please the budding LEGO Master Builders out there!
This one looks to be a "juniorised" version of the original Raptor Rampage which is a good thing! That was an underrated set in my opinion, although the price point was a little high.
And finally in the juniors range, a version of the Pteranodon Capture from the original movie. Not that that's a bad thing as that was a fun set with a lot of playability. This time round they've crammed a volcano into the set. Just what Junior Builders need to help their imaginations.
I'm really rather pleased to see the LEGO Juniors range include the Jurassic World:Fallen Kingdom sets and they look great! The perfect way to get those creative juices onto the next level of LEGO!
DUPLO Jurassic World : Fallen Kingdom Sets
I cannot tell you how happy seeing these here makes me! My kids are still in the Duplo range and love it and Dinosaurs! So needless to say they will be getting both these sets and hopefully helping me review them! Cannot wait!
The more expensive set is built around a tower which looks based on the latest DUPLO Airport set. There's a great looking Jurassic World Jeep for Owen to escape in. And off-course, the star of the set, a super cute T-Rex with a mean bite. Although obviously for kids this age, they don't eat or hurt people. Just chase them.
When the showed this scene in the original Jurassic World movie, it was one of the highlights for me. Just so absolutely perfect in every way, even down to the cast and crew's kids being in the scene. So to recreate that magical moment for kids in DUPLO could not be more perfect! Featuring a baby Triceratops (one of my favourites) and Diplodocus, the kids can snap pictures on the camera. This is one of my favourite Duplo sets ever already!
Final Thoughts
This was not meant to be a full on article but the material is amongst my favourite in movies and books. And when it originally came to LEGO back in 2016 I was very, very happy. This time round, I have decided that I really love everything LEGO has done with these sets. I thing a couple of them I need to see and hold to be fully swayed, but otherwise I cannot wait to get my hand on them! Thank you!
If you made it this far, I hope you enjoyed the article. Be sure to share and comment on it! And make sure you follow GJBricks on Twitter and YouTube!
See you soon!
GJBricks
And make sure to go and read the original article on Brother's Brick. And check out all the LEGO Jurassic World set on Brickset. Where I have used images, I have linked out to the original site I got them from, and include Lego's copyright.