Reading Time:
6
minutes
LEGO has finally released details of the new LEGO Creator Expert Roller Coaster. It's one that surfaced recently and has come out pretty quickly compared to the rumour time frame.  There's a lot of people of people in the LEGO community have had high hopes of a roller coaster set since the track pieces started appearing. Tbh, we've been wanting to solve the LEGO Roller Coaster problem forever. 
I have to say that with this model, the LEGO Creator Expert range has delivered! It's also possibly bankrupted a lot of people. Packed with details and features, LEGO has gone all in to keep the fans happy! This set is simply stunning! And for completeness, let's not forget the smaller LEGO Creator Pirate Roller Coaster coming soon.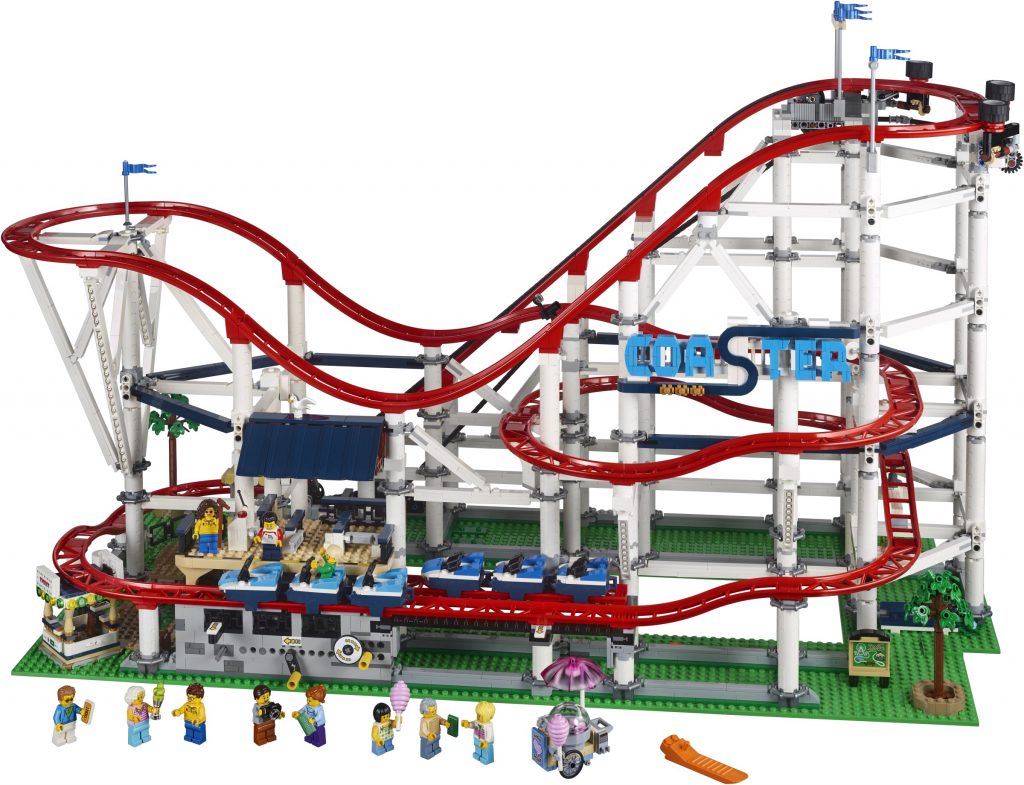 Packing in 4,124 pieces you get a lot in the box. It's priced similarly to the Ninjago City set, so a lower cost per part but that would be down to all of the track pieces you get in the box. The set includes 11 minifigures, a ticket booth, cotton candy, a pond and fountain, concession stand and waiting area. It also includes a camera to capture the riders in that first dive. The roller coaster sign itself is brick built and looks rather cool!
Prices for the various regions are as follows:
CN LEGO Roller Coaster 10261 $479.99 CN
DE LEGO Roller Coaster 10261  329.99€
FR LEGO Roller Coaster 10261 349.99€
DK LEGO Roller Coaster 10261 2699DKK
Living in Australia, I'm really pleased to see it wasn't a straight price conversion, else it would have been $550!
This set adds a few new pieces including one new track piece, 2x8x6 Rail Slope. As you can see in the shot below, there's a lot of track pieces. The track itself is built on multiple levels. The one obvious thing that is missing is a loop-the-loop. I'm assuming LEGO will sell an 'expansion pack' similar to what they've done previously with the monorail and train sets.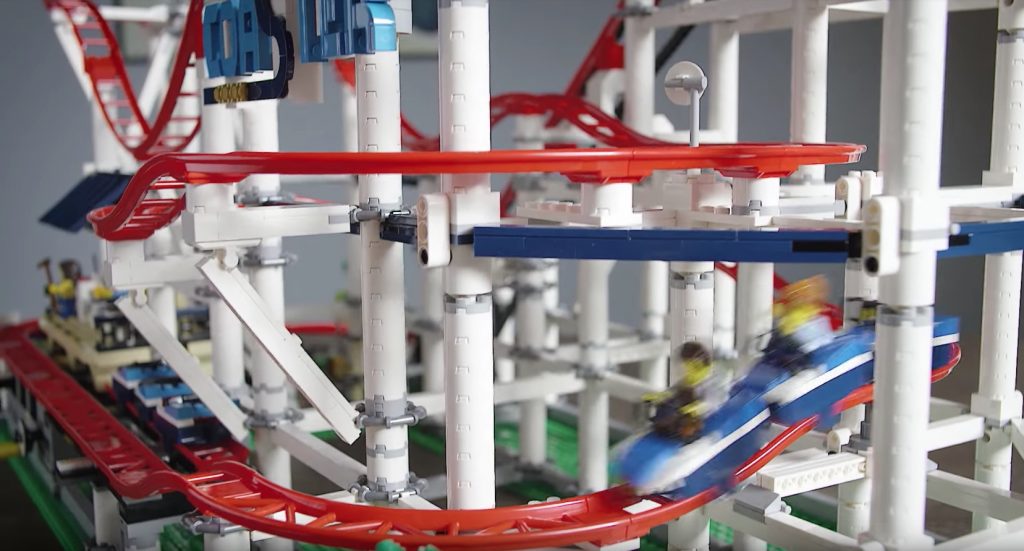 Interestingly, rather than being built on a couple of large baseboards, it's built on several large plates. This leaves the centre space empty. I'm wondering if they've done that to give builders more freedom to customise the set's environment. Or possibly to save some cost in terms of what they had to create and include in the set. Either way, it's a great space to fill!
A Working Model
The roller coaster cars use the same frictionless moulds we've seen in other sets, including The Joker Manor
 set. As you can see below, the cars are super cute and include safety bars for each of the minifigure riders. In this shot you can also see the mechanisms for the brake, chain-lift propelling handle and one other which I'm guessing is for moving the cars along.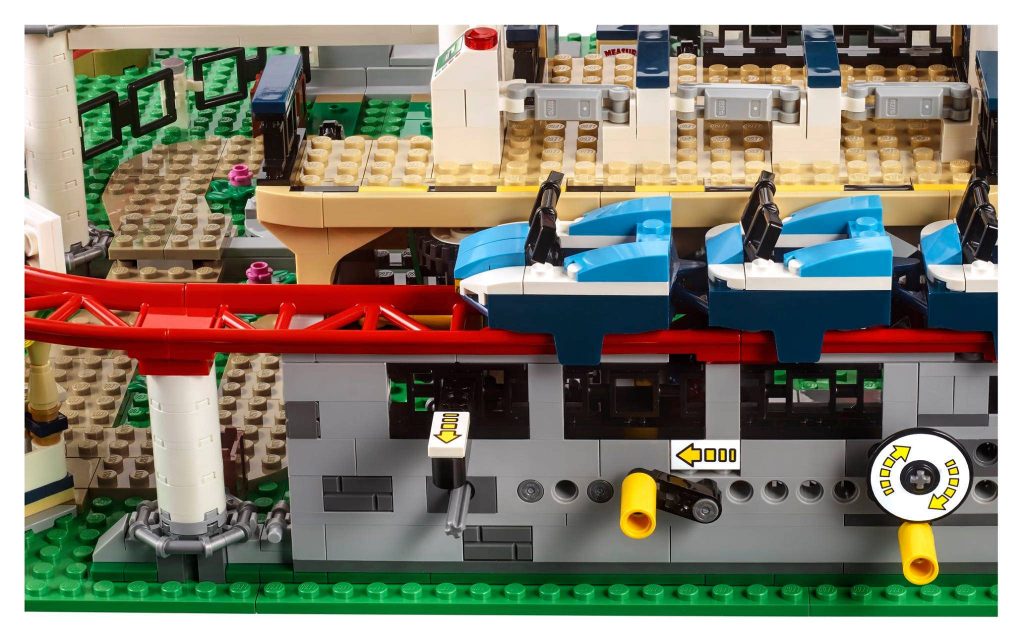 The set includes two sets of cars and a mechanism to take one out of service if required. They really have taken into account a lot of what the real-world counterparts require. I love this shot because it gives a closeup of just how much is going on in this set! With the multiple layers of track, supports, beams and the chain with it guide systems.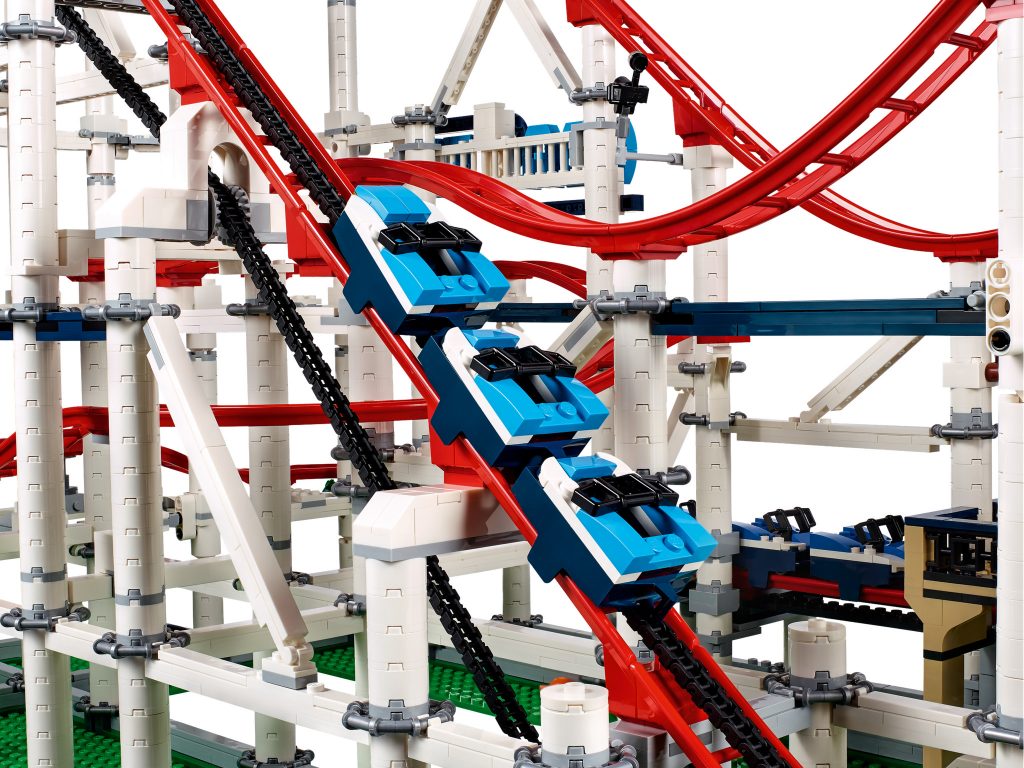 What is interesting is how many mechanisms they've included to propel the cars around the track. You can see in the previous shots, the main chain system for getting the cars up to the top. But what is almost as impressive is the push along functionality at the loading area and on the top section.
Taking a cue from real-world systems, it's built using tires to push the cars along. And if you watch the video below, you can see how the wheels have suspension in them to stop it jamming. All very clever and beautifully simple – being a mechanically minded person, I envy the designers on what they got to do with this one!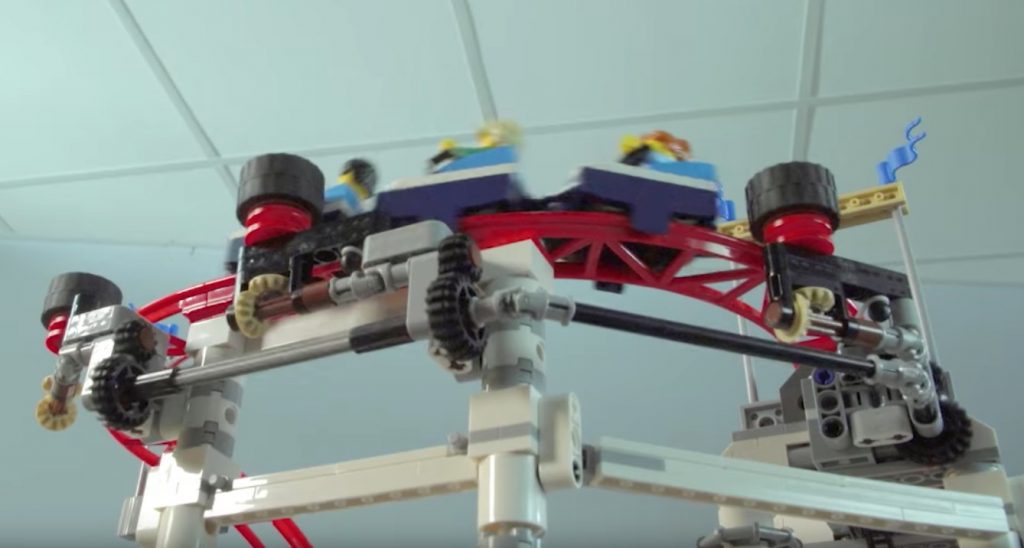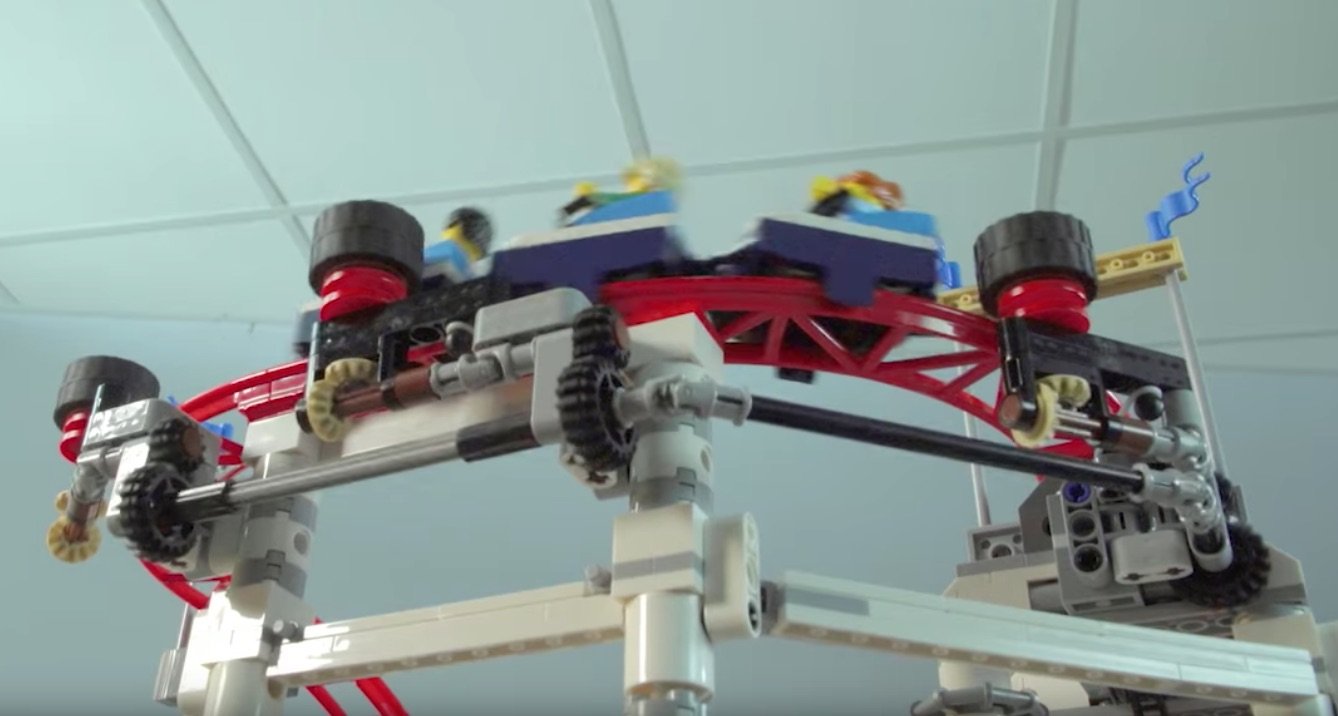 And as with the other LEGO Creator Expert fairground rides, you can add LEGO® Power Functions M-Motor
features. This makes the whole mechanism automatic, feeding the cars out of the boarding area, up the main climb and then round the top curve. Seems like a no-brainer for the price.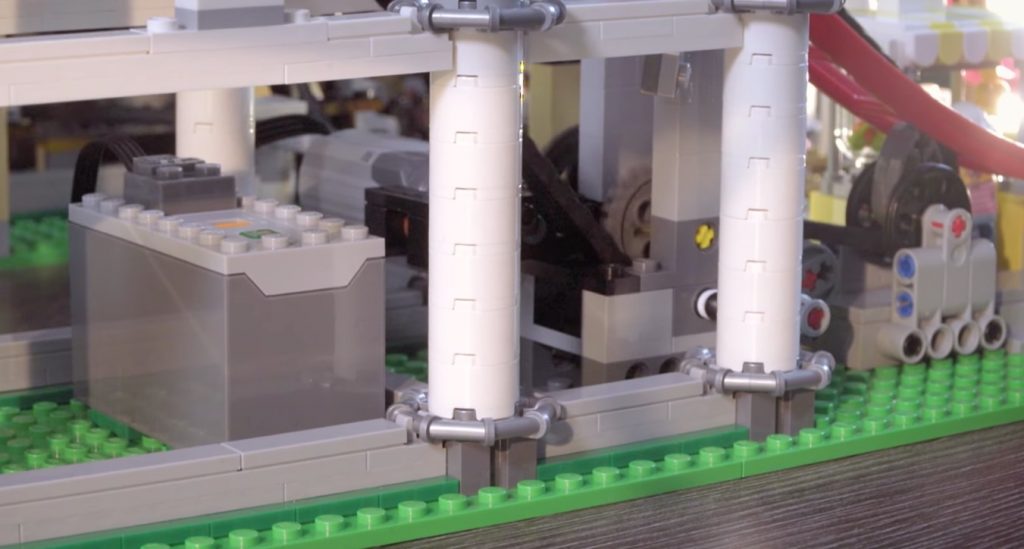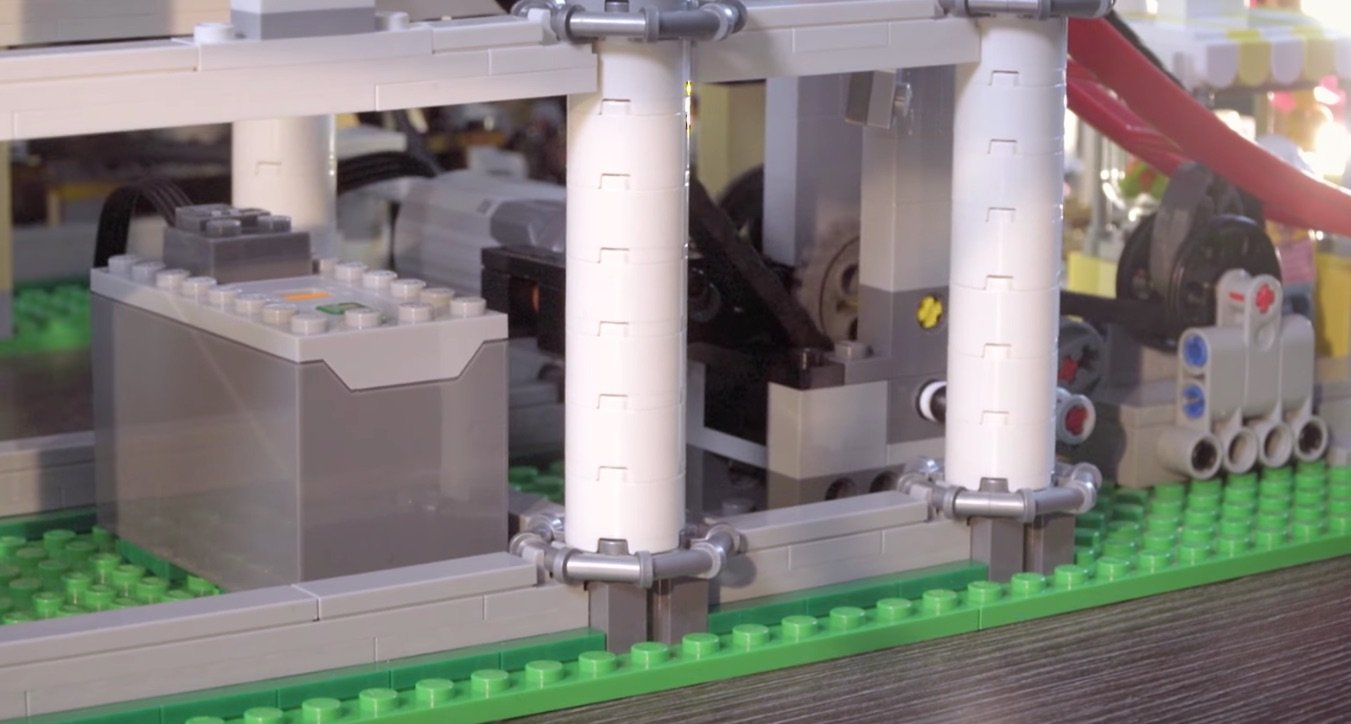 Given the amount LEGO has packed into this set, they've realised that photos cannot show you everything. So they've been good enough to provide videos which I've added to my official LEGO Videos playlist: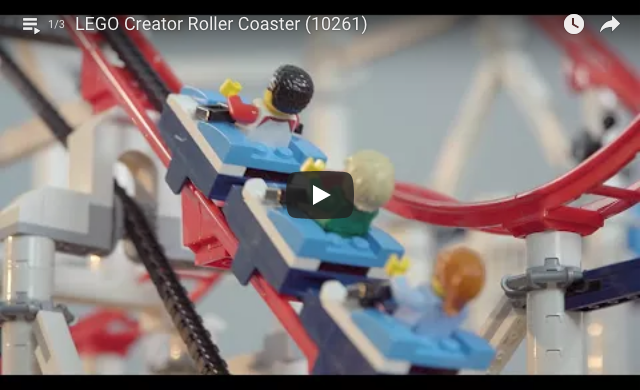 Final thoughts
I for one am looking forward to seeing this set in person. But, more importantly, to see what amazing things people will do with it – you already know some will be combining multiple sets into one. Whether I will buy it or not depends on whether I can find a good space for it in my LEGO City and justify the cost (ok, that bit is easy. Becuase it makes me happy).
Thanks for reading and please be sure to comment and share if you enjoyed it.
You can also find GJBricks on Twitter and YouTube with even more LEGO goodness.
LEGO Creator Expert Roller Coaster Gallery