Reading Time:
4
minutes
This is a review of the 2022 LEGO City Train Station (60335). It's been 6 years since we last had a train station in the form of the 60050 Train Station. But was it worth the wait?
You bet it was! This is a fantastic set! In fact, it's so good my kids took it to play with before I could review it and misplaced one of the minifigures. Little stinkers! But it was so good watching them set up the LEGO trains and add in their own station LEGO Moc to complement this one. If you'd prefer to watch the review, visit my YouTube channel and watch the 2022 LEGO City Train Station Review (60335) – a set worth waiting for!
Let's start with the price. As of writing – and expect this to change in September – it costs $99.99 USD | $129.99 AUD | 129.99 CAD | £69.99 | 79,99 € | Amazon.com.au.
From the start, building this set was fun! Bags 1 and 2 are the maintenance car and the fun portaloo – seriously, it has poo in it! Bags 3 and 4 make what might be the best-ever LEGO City bus. And the final 4 bags build the crossing and station itself.
There is hardly anything I don't like in the set. There are so many good little details and I love the way they have kept the new LEGO City farm fresh branding going through all the new sets. They even included some bits of art using triangular coloured tiles that are inspired.
The train station building itself uses some fantastic techniques with the entire roof being built using studs on the side construction to give a great panoramic roof.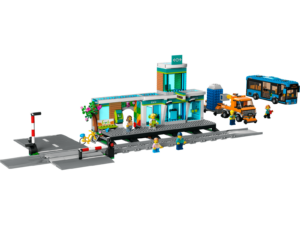 A level-crossing is included but it is quite basic, however, it does show you how to use the new road plates to make a crossing. Oh, and you get one of the new road plates, obviously.
As for the two vehicles, it's great to see a maintenance vehicle again. And I especially love that it is a modern take on some of the classics, being a 6-wide build. And, it includes a portaloo trailer, with the build for the portaloo being spot on! One of their finest with the new pieces they used for the roof.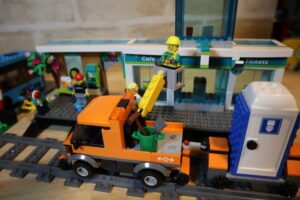 The bus, in my opinion, is one of the finest LEGO City buses we've ever had! It's solid, features a partially removable roof – as opposed to the usual whole roof – and uses the same door pieces used on the new LEGO City High-Speed Passenger Train (60337). And the LEGO Designers have used a great technique for the bike rack too.
If I had to make any complaints, it's that the interior of the buildings is very, very sparse. The roofs are not removable making the interiors hard to get into, And the trailer only has train wheels on it (this is due to how small it is though).
Final thoughts
My final thoughts on this set, in case you could tell by now, are that I think this is a really good, well overdue set. It's good to see LEGO making so much effort in the LEGO City Trains. This set incorporates a lot! 2 vehicles, a level crossing, 6 minifigures and main station building – not to mention 4 track pieces, 2 road-to-track pieces and a road plate.
For $129.99 you get a lot of stuff that will keep and LEGO train fan – kids or adults – happy for many, many hours.
Otherwise, I would give this set a 4 out of 5  ★★★★✰
Buy this set from LEGO.com | Amazon.com.au
About LEGO Set 60335
The LEGO City Train Station (60335) set is packed with features, including a ticket office, coffee bar, control room and platform. You also get a toy bus, a road-and-rail cherry-picker truck with a portable toilet in tow, plus a grade crossing with a LEGO City Road Plate for connection to other City sets.
Multi-model toy Train Station lets you set the scene for imaginative play with this LEGO City Train Station (60335). Includes a bus, rail truck, trailer, portable toilet, Road-Plate grade crossing that connects to other LEGO sets, 4 track pieces and 6 minifigures.
The road-and-rail maintenance truck comes with fold-down wheels for travelling on the tracks, while the bus has an accessible interior with seating for 6 minifigures
Includes fun minifigure accessories – This LEGO City playset comes with a toy bike, hammer, shovel, broom, screwdriver, a mug, croissant, ticket tile and a very important coffee machine.
LEGO City Train Station 60335 Images
Summary
Reviewer
Review Date
Reviewed Item
LEGO City Train Station Review (60335)
Author Rating





Product Name
LEGO City Train Station Review (60335)
Price
Product Availability