Reading Time:
2
minutes
LEGO has announced two new LEGO Star Wars sets coming from the Solo: A Star Wars Story movie this summer (or winter in Australia) in addition to the sets previously announced.
Brickset has uploaded images of two new Star Wars sets arriving in August. They are both part of the recent Solo: A Star Wars Story movie and come from the same scene on Vandor-1. I won't spoil it for you if you haven't seen it, but for me, this was a very exciting part of the movie.
The vehicles and range of LEGO Star Wars
minifigures included are great! It will be interesting to see what the price point is for these two sets, But I would guess in the $50-80 USD range.
LEGO Star Wars Imperial Conveyex Transport 75217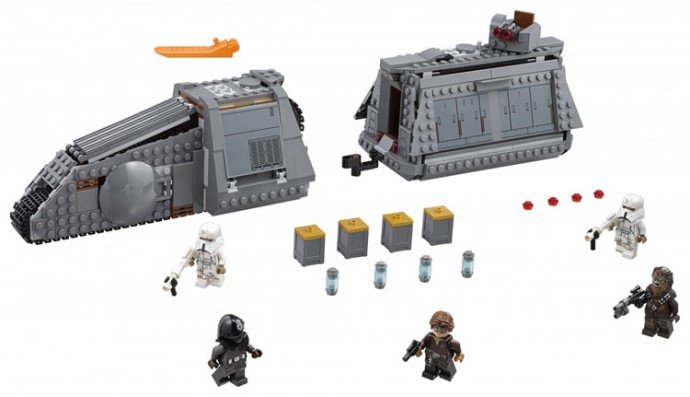 This is based on the train which is transporting the fuel that Han Solo and his friends are trying to get. Obviously, there was no way they could replicate the train from the movie completely as it was rather complex. But this looks like a good playset!
622 Pieces
LEGO Star Wars Minifigures included:

Han Solo
Chewbacca
Imperial Gunner
2 Imperial Range Troopers
One thing I do hope though is that they track on the front rolls properly. I say this, as the recent LEGO Ninjago Dieselnaut set 70654 has a problem where the front tracks don't 'roll' when you push it along.
LEGO Star Wars Imperial AT-Hauler 75219
If you haven't seen the movie yet, I won't spoil how this set relates to the train. But I will say that it is a good choice of companion set and I will be interested to see how the two work together.
829 pieces
LEGO Star Wars Minifigures included:

Qi'ra
Val
Rio Durant
2 Dryden's Guards
Are you looking forward to these sets? If yes, which one will you be getting first?
Thanks for reading! You can find me on Twitter and YouTube.
Photos and details via BrickSet
Related Videos